A7 The Despairing Stone
Troll Lord Games
---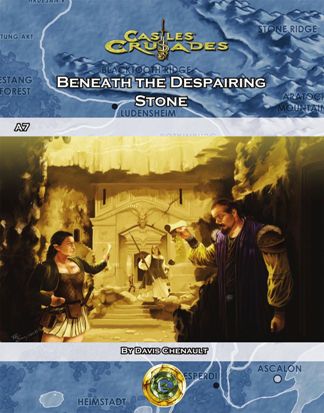 This product is part of a bundle. Complete the set and save on all bundled products you don't already own and all future additions to the bundle.
CASTLES & CRUSADES BUNDLE
Castles & Crusades A7: Beneath the Despairing Stone
A Castles & Crusades Adventure module for Fantasy Grounds
Adventure Type: Dungeon
Level: 7-9
Party: 3-5 characters
Setting: Aihrde, Portable or Home-brew

In that time before the All-father warded the world of Airhde, many creatures were already roaming his dreaming creation. These were the Val-Eahrakun. Of that order were the Oonmaukling, elemental lords of staggering power. Unklar, the Horned God, bound one of these oonmaukling to him and set it in a dungeon beneath the stones of despair; there it dwelt in a great temple, upon the edge of the dark lord's vision. Guardians he set there and they watched ever after, waiting in the timelessness of that place.
But that was long ago. Unklar himself now lays in the Void and the dungeon, like so many of his creations, lies in ruins. The desolation of the temple leaves little to chance and its malignant inhabitants have their own desires and goals, often at odds with their one time master.
Beneath the Despairing Stone Plays as a stand alone adventure or as part of the ongoing Road to Aufstrag series. The characters are brought back to the Black Tooth Ridge along its northern terminus in an area many fear to tread or even explore. They will travel far beyond the Black Tooth Ridge both in form and spirit for it is here, beneath the Despairing Stone, where devils and magic dwell whose origin reaches beyond the time of man and dwarf to that of the beginning of creation.
From the makers of the Castles & Crusades roleplaying game comes the seventh adventure in the Road to Aufstrag Series; designed for champions and heroes who must brave a demon's wrath to destroy an artifact of great power.
Author: Davis Chenault
Cover Art: Peter Bradley
Interior Art: Peter Bradley
Cartography: Peter Bradley
Editors: Nicole McMurry
Requirements: Full or Ultimate License of Fantasy Grounds and the Castles & Crusades ruleset.
Conversion by: Terry Buckingham
Fantasy Grounds II is a trademark of SmiteWorks USA LLC. (C) 2013 SmiteWorks USA LLC. ALL RIGHTS RESERVED. Visit the Fantasy Grounds II website at http://www.fantasygrounds.com for more product information.
The reproduction of material from within this product for the purposes of personal or corporate profit, by file, photographic, optical, electronic, or other media or methods of storage and retrieval, is prohibited.
This product is Copyright 2013, SmiteWorks USA, LLC. Used under license from Troll Lord Games. This product's format, programming code, and presentation is copyrighted by SmiteWorks USA, LLC. Redistribution by print or by file is strictly prohibited.
Released on May 12, 2013
Designed for Fantasy Grounds version 2.9.9 and higher.
Screenshots
TLG8026_A7_BtDS_FG2