A8 Forsaken Mountain
Troll Lord Games
---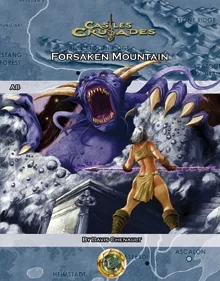 This product is part of a bundle. Complete the set and save on all bundled products you don't already own and all future additions to the bundle.
CASTLES & CRUSADES BUNDLE
Castles & Crusades A8: Forsaken Mountain
A Castles & Crusades Adventure module for Fantasy Grounds
Adventure Type: Plane Travel, Dreaming Sea, Some Overland
Level: 8-10
Party: 3-5 characters
Setting: Aihrde, Portable or Home-brew

Leave the world behind, cross the ever turulant Dreaming Sea in seek of the legendary Forsaken Mountain, for here, upon the ruins of time lies the vessel of souls! A high level adventure module for Castles & Crusades!
For the first time in many long years a cold wind blows from Aufstrag. The Ahargon Den, The Great Maw, the gates of Aufstrag, has opened and a host issued forth. Lord Coburg the Undying, Master of Aufstrag, self-appointed heir to Unklar Dark Heart has sent forth his servants. Rumor spreads across the land, far and wide, that they seek the Vessel of Souls. But all know the legend of the vessel of souls, stolen by a Confessor Knight before the Winter Dark War's end and borne upon a wind of desire across the Dreaming Sea; there the thief set it at the base of the Forsaken Mountain, safe from all hands, all those who would misuse it. This vessel, possessed of wondrous power must never fall into the hands of the enemy, for if it does the power in Aufstrag must surely bend its will into the lands of the Empress.
The Forsaken Mountain follows the adventures in the A series developed by Troll Lord Games, however the adventure can be used as a stand alone should the Castle Keeper desire. The characters must travel far beyond the realms of man and cross over into the land of dreams and thence into the realms of the forever dying, where creatures both horrifying and ambrosial dwell. Only the bravest can survive here for one's fear will certainly be one's undoing.
Author: Davis Chenault
Cover Art: Peter Bradley
Interior Art: Peter Bradley
Cartography: Peter Bradley

Requirements: Full or Ultimate License of Fantasy Grounds and the Castles & Crusades ruleset.
Conversion by: Scott Ferguson
Fantasy Grounds II is a trademark of SmiteWorks USA LLC. (C) 2013 SmiteWorks USA LLC. ALL RIGHTS RESERVED. Visit the Fantasy Grounds II website at http://www.fantasygrounds.com for more product information.
The reproduction of material from within this product for the purposes of personal or corporate profit, by file, photographic, optical, electronic, or other media or methods of storage and retrieval, is prohibited.
This product is Copyright 2013, SmiteWorks USA, LLC. Used under license from Troll Lord Games. This product's format, programming code, and presentation is copyrighted by SmiteWorks USA, LLC. Redistribution by print or by file is strictly prohibited.
Released on May 12, 2013
Designed for Fantasy Grounds version 2.9.9 and higher.
Screenshots
TLG80208FG2