Of Gods and Monsters
Troll Lord Games
---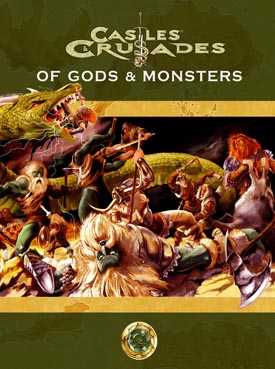 This product is part of a bundle. Complete the set and save on all bundled products you don't already own and all future additions to the bundle.
CASTLES & CRUSADES BUNDLE
C&C Of Gods and Monsters
Mythic epics are the driving force behind fantasy role playing games, and Castles & Crusades is no exception. For the first time, C&C branches out into the ether and brings you Of Gods and Monsters, a book we guarantee you'll want and use. Written by James M. Ward, this book stands alongside Monsters and Treasure as a tremendous resource for adventure and fun.
James M. Ward returns to a subject he knows very well, delivering a plethora of information on hosts of gods, godlings, heroes and the magic that drives them. In Of Gods and Monsters, Mr. Ward explores over 16 pantheons including Norse, Greek, Roman, American Indian, Aihrdian, Inzaen, demi-human pantheons and more. Beyond a simple recitation of deities, Of Gods and Monsters presents playable incarnations of the gods in the guise of their own avatars. The deft and experienced hand of Mr. Ward explores spells, magic items, rituals and more.
Castle Keepers need not struggle with characters encountering all powerful deities, but rather they can use the avatars to spice up and drive adventures of the mythic and the divine. These avatars are designed to be playable version of the gods, but not the gods themselves. Complimented with mythic monsters and holy items, Of Gods and Monsters is a must have for any serious CK.
But it's not for the CK alone. Players find loads of information from hosts of new cleric and Druid spells to rituals of the divine. Clerics, Druids, Paladins, Bards and all the characters will benefit from Of Gods and Monsters.
Graced with a beautiful painting by Peter "20 Dollar" Bradley, lined with hordes of pictures of the gods themselves, Of Gods and Monsters is a perfect complement to the ever growing C&C game system.
WHO NEEDS THIS?
Players and Castle Keepers will find a store of useful game material in this book.
Requirements: Full or Ultimate License of Fantasy Grounds and the Castles & Crusades ruleset.
Conversion by: Scott Ferguson

Fantasy Grounds II is a trademark of SmiteWorks USA LLC. (C) 2014 SmiteWorks USA LLC. ALL RIGHTS RESERVED. Visit the Fantasy Grounds II website at http://www.fantasygrounds.com for more product information.
The reproduction of material from within this product for the purposes of personal or corporate profit, by file, photographic, optical, electronic, or other media or methods of storage and retrieval, is prohibited.
This product is Copyright 2014, SmiteWorks USA, LLC. Used under license from Troll Lord Games. This product's format, programming code, and presentation is copyrighted by SmiteWorks USA, LLC. Redistribution by print or by file is strictly prohibited.
Released on June 20, 2014
Designed for Fantasy Grounds version 3.0.10 and higher.
Screenshots
TLG8017FG2