Castles and Crusades: A4 Usurpers of the Fell Axe
Troll Lord Games
---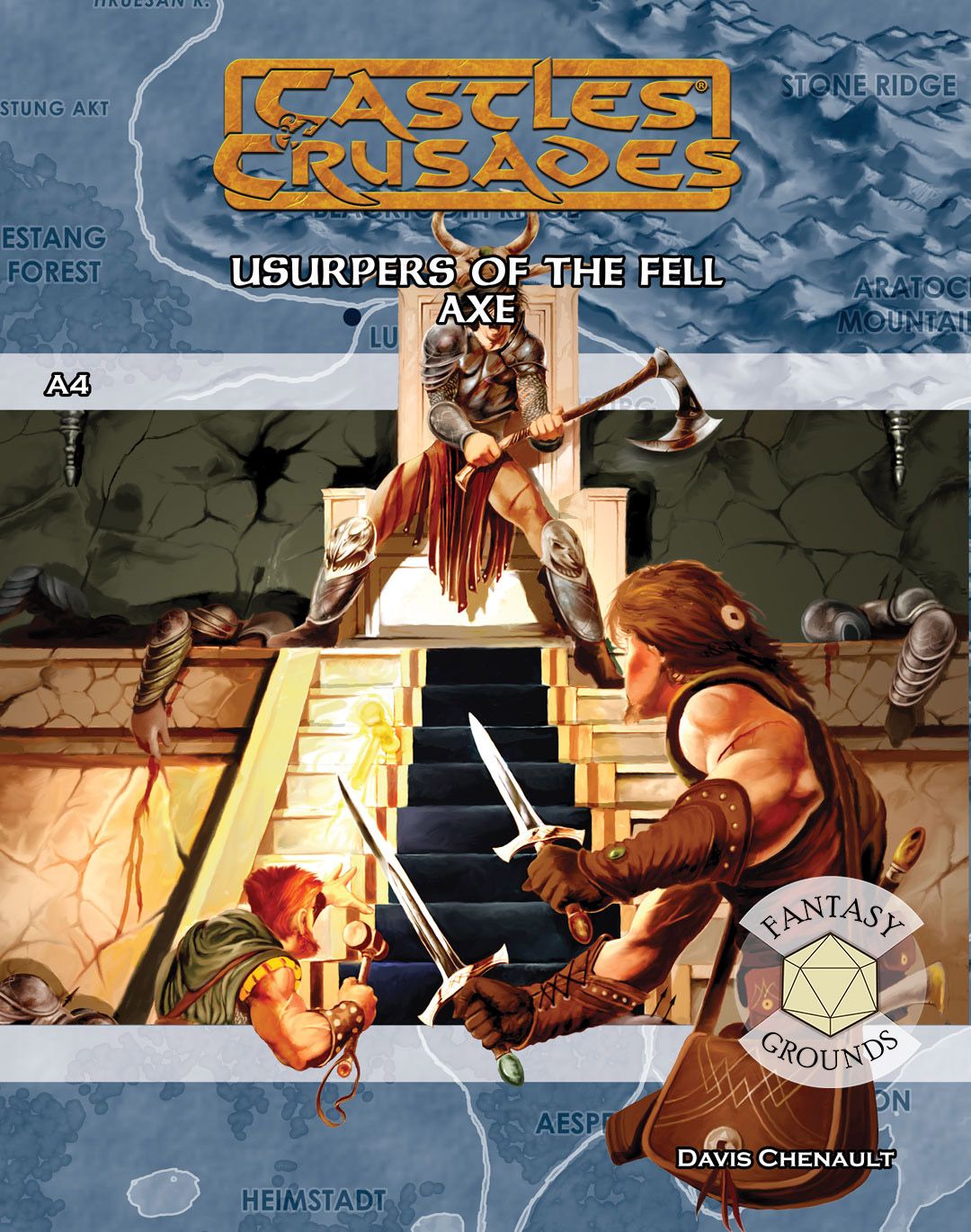 This product is part of a bundle. Complete the set and save on all bundled products you don't already own and all future additions to the bundle.
CASTLES & CRUSADES BUNDLE
The town of Ludensheim has grown fat with wealth in the passing years and its citizens become accustomed to the spoilage and ease of life under their lord, Baron Dietbold the Fell Axe. But what brings this new found wealth that so satiates the citizens of Ludensheim while the lands about languish in squalor. Surely, say many, ill gotten gains and tainted wealth have flowed into the coffers of Baron Dietbold.
Called to seek out the source of Dietbold's wealth and power, one runs the gamut of greedy merchants, corrupt sheriffs, and the diabolical machinations of those who seek conquest of this land. More foulness is afoot in Ludensheim than in all the towns of the Hruesen combined and many a desperate battle will be fought before justice is served.
From the makers of the Castles & Crusades roleplaying game comes the fourth adventure for heroes of great renown in a war of intrigue and devilish doublecrossing. For 3-5 characters, levels 4-6. The Adventure continues!
This product was one of the earlier adventures for Fantasy Grounds, so it doesn't take advantage of all the latest features, such as map hotlinks to story entries, auto-rolling random tables and pre-defined encounters. You can easily add these additional elements by dragging portions of the story to your map while holding down CTRL, dragging the NPCs to a new encounter or copying the table entries to a new random table.
Requires: An active subscription or a one time purchase of a Fantasy Grounds Full or Ultimate license and a one time purchase of the Castles & Crusades ruleset. Compatible with Fantasy Grounds Unity or Fantasy Grounds Classic
This product is Copyright 2021, SmiteWorks USA, LLC. Used under license from Troll Lord Games. This product's format, programming code, and presentation is copyrighted by SmiteWorks USA, LLC.
Released on June 09, 2009
Designed for Fantasy Grounds version 2.9.9 and higher.
Screenshots
DGA075
Customers Who Bought This Item Also Bought