Savage Worlds Fantasy Bestiary Toolkit
Pinnacle Entertainment Group
---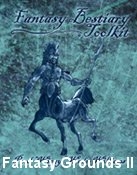 The Fantasy Bestiary Toolkit is packed with over 60 pages of critter goodness. If you're looking for help and hints on how to create your own monsters, adventure seeds and hooks to get you started, or if you just want to grab one from over 100 pre-made beasts and go then this is the kit for you!

This product is for use with the Fantasy Grounds II software, and the Savage Worlds Ruleset for Fantasy Grounds II v2 Upgrade, which is required to use this product.
Released on September 03, 2008
Designed for Fantasy Grounds version 2.9.9 and higher.
Screenshots
DGA066