Monsters of Aihrde
Troll Lord Games
---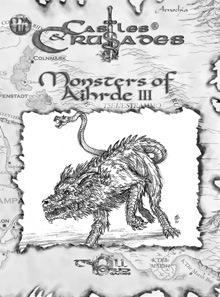 This product is part of a bundle. Complete the set and save on all bundled products you don't already own and all future additions to the bundle.
CASTLES & CRUSADES BUNDLE
With the Castles & Crusades roleplaying game, these imaginings come to life as you play the role of a hero seeking adventure in a fantastic world populated by mythic creatures and legendary beasts. Or, as the Castle Keeper, you can design the worlds and stories that make up the game, guiding friends and fellow gamers through epic adventures in wondrous settings of your own making. This product requires the Castles & Crusades Ruleset for Fantasy Grounds II.
The conversion of the three Monsters of Aihrde products is the first accessory conversion for Fantasy Grounds II, bringing you 15 more monsters for your Castles & Crusades campaign! In addition there are tokens for each monster, whose scale is compatible with the tokens from your Castles & Crusades Ruleset purchase.
These products have been created for use with Fantasy Grounds II, and were developed with the latest updates for Fantasy Grounds II, so please update your installation accordingly. These products will not work with any other version of Fantasy Grounds.
This Castles & Crusades product was created for use with the Fantasy Grounds II software from SmiteWorks. For more information on products from Troll Lord Games visit their website at http://www.trolllord.com. These products are Copyright 2009, Troll Lord Games & SmiteWorks USA, LLC. Used with permission from Troll Lord Games. This product's format, programming code, and presentation is copyrighted by Troll Lord Games and SmiteWorks USA, LLC. Redistribution by print or by file is strictly prohibited.
Released on March 03, 2008
Designed for Fantasy Grounds version 2.9.9 and higher.
Screenshots
DGA055