The Complete SRD for Fantasy Grounds
SmiteWorks USA, LLC
---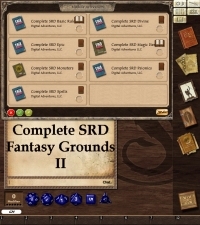 The Complete SRD is now available in module form for Fantasy Grounds II. Over 800 pages of information taken directly from the Standard Reference Document and converted to modules of Basic Rules, Divine, Monsters, Magical Items, Epic, Psionics, and Spells! All of this information is now available for Fantasy Grounds
This product is a slight variation to what is already included with the GM and Ultimate licenses. It adds mostly the same lists of items, monsters, spells, etc., but adds a few more of the descriptive text from the SRD which surrounds these lists and adds the Psionic and Epic level content. Unless you need the Psionic and Epic content, I would recommend skipping this product.
GM/Ultimate Included Library Modules:
3.5E Basic Rules
3.5E Magic Items - item list by magic item type
3.5E Monsters - simple listing of monster entries - searchable
3.5E Spells - spell listing by class, cleric domains, wizard schools
CSRD Complete Included Library Modules:
Complete SRD Basic Rules - adds NPC classes, Prestige Classes, more descriptive text, combat basic action descriptions, descriptions of planes, traps, material, traveling and exploration
Complete SRD Divine - more descriptive text and a few more spells
Complete SRD Epic - adds epic class progressiosn, epic prestige classes, epic feats, epic spells, epic magic items, epic monsters, epic obstacles and basic descriptive info.
Complete SRD Magic Items - adds additional descriptive text and info on creating magic items
Complete SRD Monsters - Monsters list, Animal list, vermin list, descriptive text about type, subtypes & special abilities, monster feats and improving monsters text from the SRD
Complete SRD Psionics - adds 5 new psionic classes, 9 new psionic prestige classes, feats, skills, races, powers, items and disciplines
Complete SRD Spells - adds Blackguard and Assassin Spells
This product requires Fantasy Grounds, and works with the default 3.5E and compatible rulesets.
Released on August 11, 2009
Designed for Fantasy Grounds version 2.9.9 and higher.
Screenshots
DGA044