Monte Cook's Arcana Evolved Ruleset
Malhavoc Press
---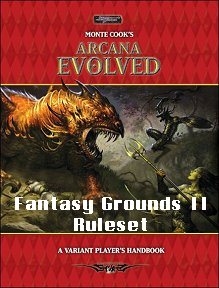 With the Arcana Evolved Ruleset for FGII you'll now be able to play your favorite campaign online with friends across the globe.
SmiteWorks is proud to bring Monte Cook's Arcana Evolved variant player's handbook campaign to the Fantasy Grounds Virtual Tabletop software, which won the Best d20 Game Gold Award at the GEN Con EN World d20 System awards in 2005. This electronic product gives you all of the rules and ambiance you need to host or play an Arcana Evolved game online with Fantasy Grounds. This download package includes:
* Arcana Evolved Ruleset containing all the rules, races, spells, monsters, and classes from this award winning setting.
* Custom desktop graphics
* Over 100 monster and player character image and token files to use online.
Arcana Evolved is a variant player's handbook by 3rd Edition co-designer Monte Cook that is the "Director's Cut" edition of Monte Cook's Arcana Unearthed. Discover a new PC race, the dragonlike dracha; a new class, the ritual warrior; new champion types and totem warrior abilities; new prestige classes; combat rites; and dozens of new spells, spell templates, feats, manifestations, equipment, and more. Arcana Evolved introduces exciting new storyline elements that evolve naturally from the return of the dragons. Plus, check out evolved versions of all races, new 10th-level spells, and high-level play with characters up to 25th level! Now you can do more with your characters than ever before.
For the Arcana Evolved follower not familiar with Fantasy Grounds, it is an application acting as a virtual online gaming table primarily intended for pen and paper style narrative role playing games. Fantasy Grounds is designed to perform many of the things you can do while playing at a conventional gaming table and move it online. Run games as the gamemaster or take part as a player, the application provides all the necessary tools to communicate, manage information and perform tasks such as rolling the dice or creating drawings, and the Arcana Evolved Ruleset puts all of the rules for this campaign at right on your digital desktop!
This Arcana Evolved product is written for the Fantasy Grounds software from SmiteWorks. For more information on products from Malhavoc Press visit their website at http://www.montecook.com. This product is Copyright 2009, Malhavoc Press & SmiteWorks USA, LLC. Used with permission from Malhavoc Press. This product's format, programming code, and presentation is copyrighted by Malhavoc Press and SmiteWorks USA, LLC. Redistribution by print or by file is strictly prohibited.
Released on May 17, 2008
Designed for Fantasy Grounds version 2.9.9 and higher.
Screenshots
DGA009