Missed Dues (CoC7E)
Chaosium
---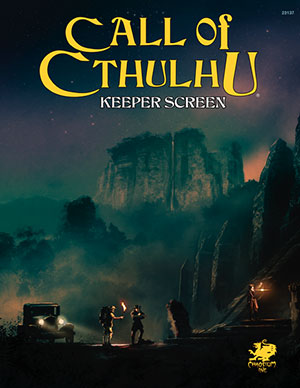 Missed Dues
Second of two adventures included in the Keeper's Screen for Call of Cthulhu 7th Edition.
In Blackwater Creek, the investigators have been summoned to the office of Mordecai "The Hammer" O'Leary on South French Hill Street. They are tasked with finding "Sticky Jack", a thief that has crossed Leary by pulling three recent robberies without paying his cut. Jack was last seen after he made his thefts at the Miskatonic University. The players must find Jack or face the wrath of Mordecai and his claw hammer.
This is a short investigation suitable for new or seasoned investigators, but is weighted towards new groups. It includes six pre-generated characters and portraits.
By Mike Mason, Scott Dorward, and Paul Fricker. Screen art by Ardila; scenario art by Pat Loboyko, Chris Huth, and Chris Lackey.
Converted by: Ian Ward
Requires: An active subscription or a one time purchase of a Fantasy Grounds Full or Ultimate license and a one time purchase of the Call of Cthulhu 7E Ruleset.
Some content Copyright ©2017 Chaosium inc. ALL RIGHTS RESERVED.
Fantasy Grounds is a trademark of SmiteWorks USA LLC. © 2017 SmiteWorks USA LLC. ALL RIGHTS RESERVED.
Released on March 20, 2017
Designed for Fantasy Grounds version 3.2.2 and higher.
Screenshots
CHAFGCOC7EMD