Basic Magic for BRP
Chaosium
---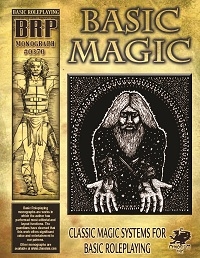 BRP Basic Magic
A BRP library module and extension for Fantasy Grounds
This work presents four core Chaosium magic systems developed for use with Basic Roleplaying. Here is Spirit Magic, derived from your ancestors and the spirits of old; Divine Magic, come from the gods; Sorcery, developed from within; and Ceremony, made powerful through ritual and chant.
This product contains a library module fully converted for display and use within fantasy grounds. It comes with a custom extension for the new spell template types and spell lists for each magic type that can be dragged to character sheets and referenced during play.
Requirements: Full or Ultimate License of Fantasy Grounds and the Basic Roleplaying (BRP) ruleset.
Fantasy Grounds II is a trademark of SmiteWorks USA LLC. (C) 2010 SmiteWorks USA LLC. ALL RIGHTS RESERVED. Visit the Fantasy Grounds II website at http://www.fantasygrounds.com for more product information.
The reproduction of material from within this product for the purposes of personal or corporate profit, by file, photographic, optical, electronic, or other media or methods of storage and retrieval, is prohibited.
This product is Copyright 2010, SmiteWorks USA, LLC. Used under license from Chaosium. This product's format, programming code, and presentation is copyrighted by SmiteWorks USA, LLC. Redistribution by print or by file is strictly prohibited.
Released on December 04, 2010
Designed for Fantasy Grounds version 2.9.9 and higher.
Screenshots
CHA0370FG2