Mythos Magic
Chaosium
---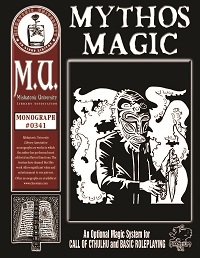 Call of Cthulhu - Mythos Magic
A Library Module for use with the Fantasy Grounds virtual tabletop
An Optional Magic System for Call of Cthulhu
For decades magic has been a backbone and prominent feature of Call of Cthulhu. Whether it is a race to stop the summoning of some god or alien, the need to communicate with things on other worlds by means of arcane scripture, or solving murders done with hexes rather than guns, magic has been inevitably wedded to the game narrative.
Here is, hopefully, a useful breakdown of what magic is, what it can do, how it works and how Investigators can make it work for them. Of course, humans are not the only ones who can use this mysterious force and Mythos specific magic is also examined.
MISKATONIC UNIVERSITY LIBRARY ASSOCIATION monographs are longer works by one or more authors on a subject of import to Call of Cthulhu roleplayers. On these products the author has also fulfilled the functions of editor and layout artist; we at Chaosium have done little in the way of editorial. We found these works compelling and thought that you would enjoy them. Through the publication of monographs we can offer our most loyal fans more information more easily, and evaluate the potential of these works for eventual release to the wholesale market.
By Christian Read
Requirements: Full or Ultimate License of Fantasy Grounds and the Call of Cthulhu ruleset.
Conversion to FG by: Alan Neilson
CALL OF CTHULHU
Horror Roleplaying in the Worlds of H.P. Lovecraft
Call of Cthulhu is published by Chaosium Inc.
Call of Cthulhu (r) is the registered trademark of Chaosium Inc.
Fantasy Grounds II is a trademark of SmiteWorks USA LLC. (C) 2010 SmiteWorks USA LLC. ALL RIGHTS RESERVED. Visit the Fantasy Grounds II website at http://www.fantasygrounds.com for more product information.
Similarities between characters in Call of Cthulhu and persons living or dead are strictly coincidental.
This product is Copyright 2011, Chaosium & SmiteWorks USA, LLC. Used with permission from Chaosium. This product's format, programming code, and presentation is copyrighted by SmiteWorks USA, LLC. Redistribution by print or by file is strictly prohibited.
Released on May 30, 2011
Designed for Fantasy Grounds version 2.9.9 and higher.
Screenshots
CHA0341FG2