Description
SmiteWorks is the small Indie team of three dedicated software developers responsible for the Fantasy Grounds virtual tabletop. Fantasy Grounds allows gamers to play traditional pen-and-paper style roleplaying games. With the aid of over two dozen community developers and partnerships with key RPG publishers, gamers' online experience is tailored to a host of different game systems.
History
Early history
SmiteWorks Ltd. was formed in 2004 and based out of Espoo, Finland. The original owners had a great vision of what online tabletop gaming could be. Each of the current owners and developers were individually drawn to this platform and saw it as a way to allow gaming online for any game system.
2009 and After
Doug Davison had used the Fantasy Grounds software since 2008 and instantly fell in love with how flexible and powerful it was. After quickly creating custom rulesets to handle his personal Star Wars Saga campaign needs, he reached out to the original owners and negotiated to purchase the company outright. John Gregory was another end-user and community developer and he joined Doug in early 2010. Together, they have helped bring a large collection of game systems and additional enhancements to Fantasy Grounds and they hope to see it grow further as time goes on.
2014 and Beyond
Zeph Ponos joined the development team in an official capacity after several years of community development. His work has been inspiring and has earned him immense respect within the Fantasy Grounds community. With Zeph joining the team, SmiteWorks hopes to tackle even bigger projects, such as porting the code engine over to Unity. The port to Unity should allow for better deployment across multiple platforms, such as Mac, Linux, PC, web and tablet. It should also allow for numerous enhancements with 3D, animation, dynamic lighting and more.
Project Press Sheets
---
Videos
FG Trailer YouTube
---
Images
There are far more images available for SmiteWorks USA, LLC, but these are the ones we felt would be most useful to you. If you have specific requests, please do contact us!
---
Logo & Icon
download logo files as .zip (169KB)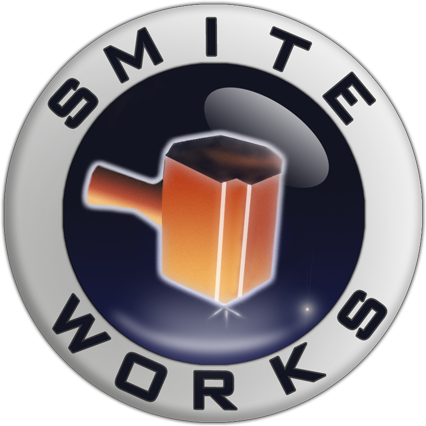 ---
Awards & Recognition
---
Selected Articles
"Fantasy Grounds is for real."
- I. Perez, RPGNow
"PCWorld 7 out of 10"
- Jim Norris, PCWorld.com
---
Team & Repeating Collaborators
Doug Davison
Developer, Co-Owner & President
John Gregory
Lead Developer, Co-Owner
Zeph Ponos
Developer
Contact
---
presskit() by Rami Ismail (Vlambeer) - also thanks to these fine folks